Accessories, Fittings, Pneumatic, Push-in-Fittings
Push-in-Fittings – Metalwork
Availability:
320 in stock
---
Quick and easy to use, the Metal Work push-in fitting can be re-used thousands of times without affecting the pneumatic and mechanical seal in any way. It comes in various configurations and guarantees virtually unlimited, highly flexible use. The clamping spring with its special shape grips the pipe without scratching or deforming it.
These fittings are designed to facilitate pipe release. You only need to press the release bushing to open up the clamping spring and free the pipe. When you press your finger onto the release bushing, you can clearly hear the characteristic "click-clock" sound.
In the fittings, the release bushing has patented screwdriver slots to facilitate release in applications not accessible to the fingers.
Configurations RL19, RL21, RL22, RL23, RL23M, RL24, RL44, and RL49 (except for Ø5), have a ring for fixing to the wall asymmetrically in order to contain the head of a screw within the overall dimensions of the fitting. There are push-in fittings for metric pipes in the diameter range of
3 to 14, and push-in fittings for inch pipes in the diameter range of 1/8 to 1/2.
Threaded connections have ISO 228-1G cylindrical thread in the 1/8-1/2 range, ISO 7-1 conical thread in the 1/8-1/2 range, metric thread in the M3 to M12x1.5 range, and conical thread compatible with NPT female threading.
EGP0.00 – EGP145.92
Available Types of Push-In Fittings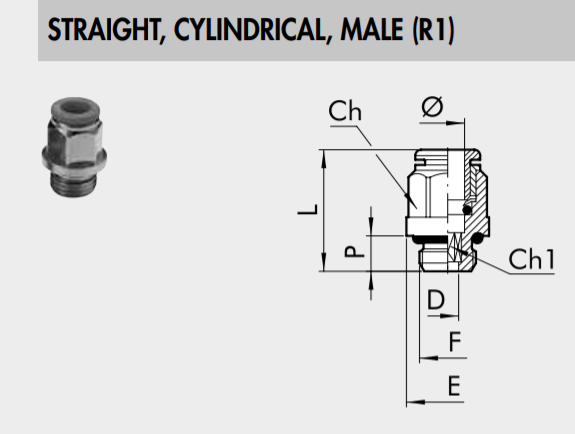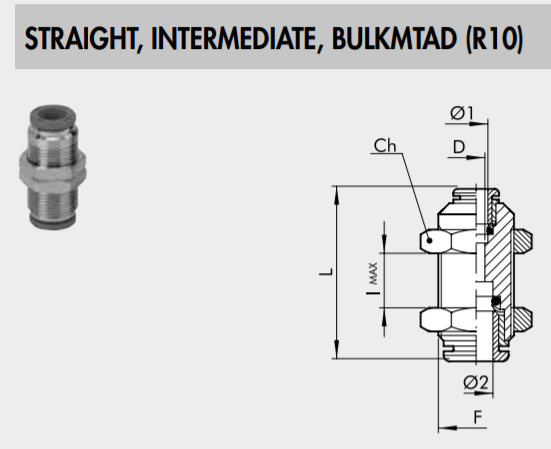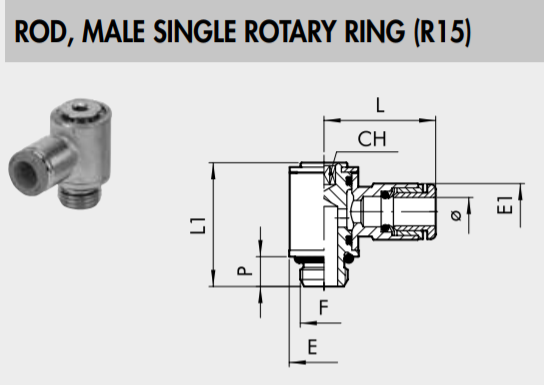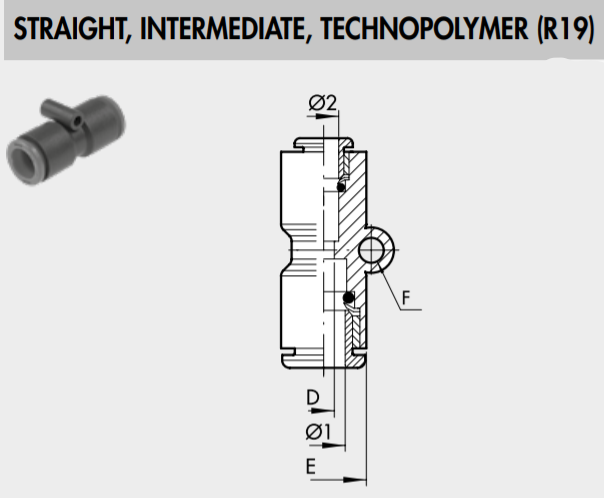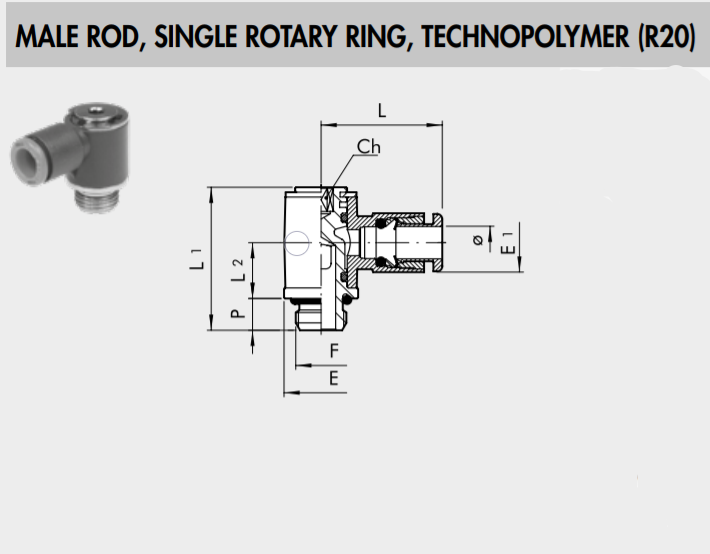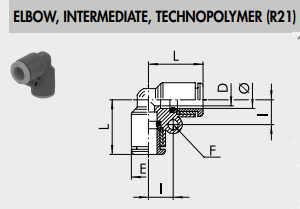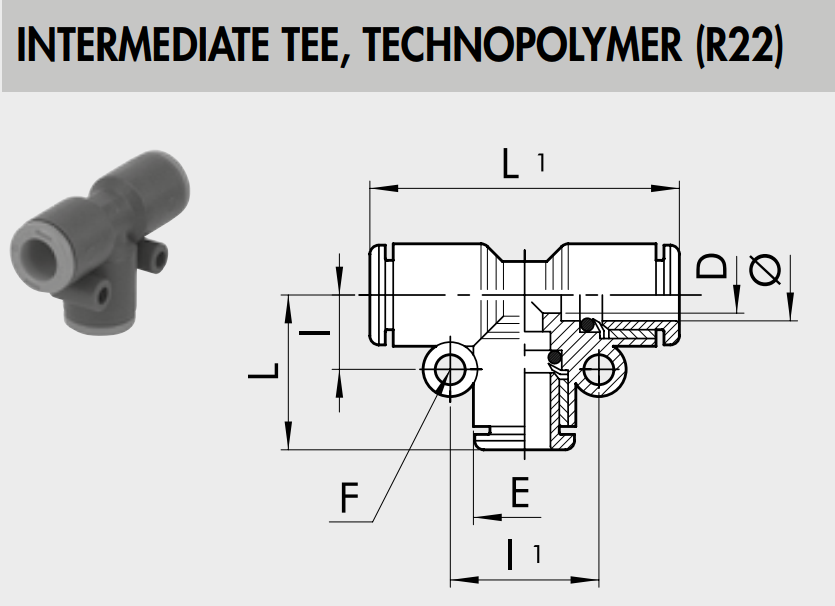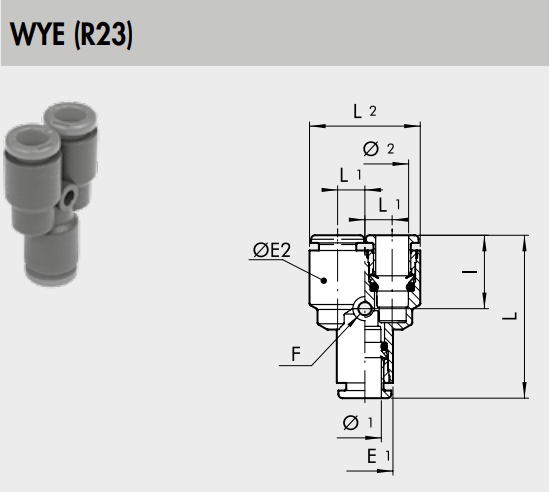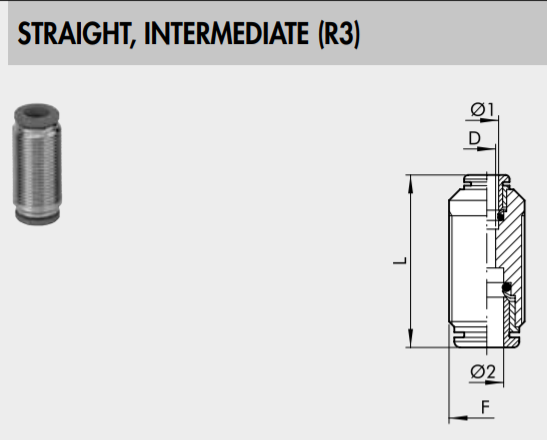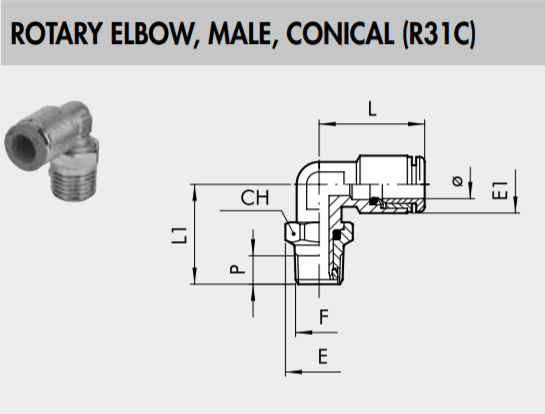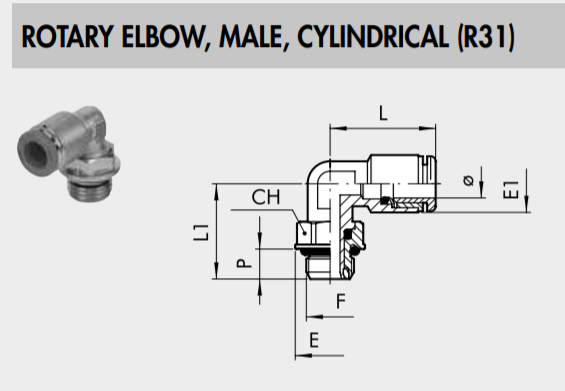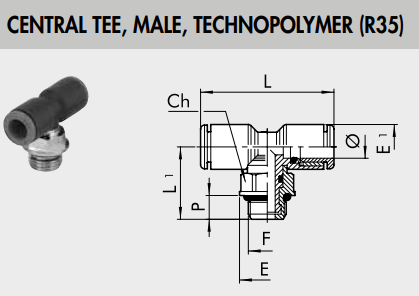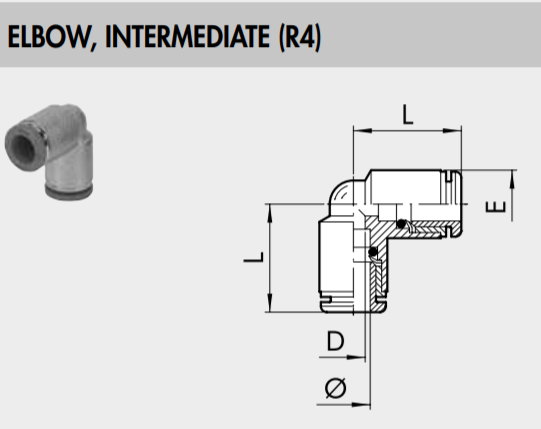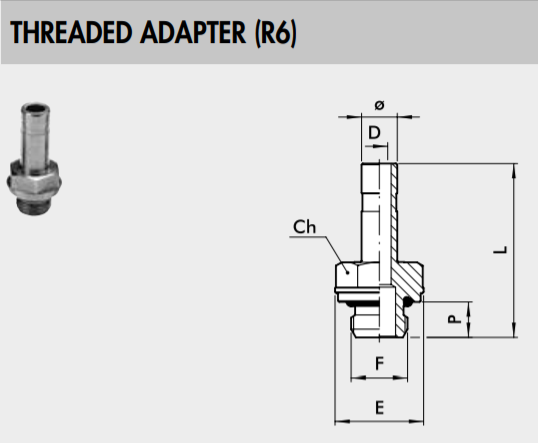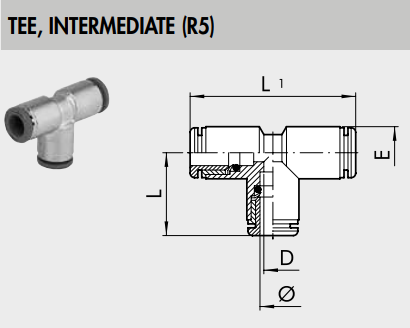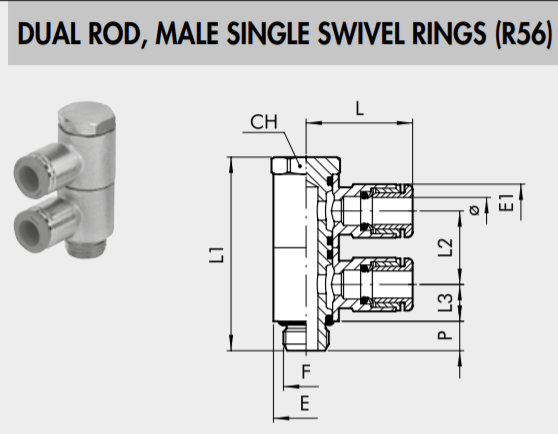 | | |
| --- | --- |
| Brand | |
| Fitting Type | R1/RL1 – Straight Cylinderical Male, R10/RL10 – Bulk Head Intermediate Straight, R15/R15L – Rod, Male Single Rotary Ring, R19/RL19 – Intermediate Straight, R20/RL20 – Male Rod, Single Rotary Ring, R21/R21L – Intermediate Elbow, R22/R22L – Intermediate T, R23/RL23 – Y, R3/RL3 – Intermediate Straight, R31/R31L – Rotary Elbow Cylinderical Male, R31C – Rotary Elbow Conical Male, R35/R35L – Male Central T, R4/RL4 – Indermediate Elbow, R5/RL5 – Intermediate T, R56/RL56 – Dual Rod, Male Single Swivel Rings, R6/RL6 – Threaded adaptor, R32/R32L – Rotary Central T Male |
| Connection #1 | 4, 4 mm, 6 mm, 8 mm, 10 mm, 12 mm, 14 mm, 16 mm |
| Connection #2 | 1/2", 1/4", 1/8", 10 mm, 12 mm, 14 mm, 3/4", 3/8", 4 mm, 6 mm, 8 mm, M5 Thread, N/A |
| Material | Brass, Technopolymer |